Search Results for:
swiss
We stock a whole range of different Swiss cheeses here at Shisler's Cheese House, so we thought now would be a great time to share them all with you.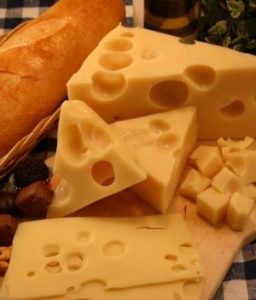 How are Swiss Cheeses made?
The process of making Swiss cheeses involves natural bacteria consuming the lactic acid in the cheese. This releases carbon dioxide gas, which forms bubbles that become the holes in the cheese. These are often referred to as "eyes".
Our range of Swiss cheeses
Our Ohio Swiss cheese is an Amish cheese made in Northeastern Ohio.  It undergoes a longer aging process that it undergoes, at a higher temperature than younger cheeses. This produces larger eyes, which is sometimes seen as an indicator for better flavor. It closely resembles the original Swiss Emmental Cheese, which was originally produced in the Swiss canton of Bern. Ours has the signature nutty, bittersweet taste. The milk used in our Swiss cheese does not have preservatives added and is always from cows that have not been given hormones or antibiotics.
We also offer Baby Swiss, which substitutes water for the milk's whey to slow the bacterial action. This creates smaller holes and a milder flavor, whilst still being delightfully creamy. If you or someone you love likes Baby Swiss cheese, then you'll be pleased to know we offer a gift box with a 4lb. Baby Swiss cheese and a selection of assorted chocolates. You can also find a 2lb. Baby Swiss cheese in one of our other gift boxes, along with a Troyer's Trail Bologna Ring, 8oz, of Colby Cheese, Shisler's Private Label Mustard, Carr's Crackers and assorted chocolates.
Lacy Swiss is another variety of Swiss cheese, made with low-fat milk. Lacy Swiss was invented by Alpine Lace Brands in 1985 in response to the growing need for healthier alternatives.  This cheese is closely related to Swiss cheese, but the whole milk used to produce swiss cheese is replaced with low fat milk to provide a healthier alternative with a lower fat content. It gets its name from the lacy appearance of the slices, which usually have a creamy, ivory color to them. It has a delightfully light and nutty flavor. If you follow a lactose-free diet, then this cheese is naturally free of lactose.
We also stock Lacy Baby Swiss. Lacy Baby Swiss combines the production methods of Baby and Lacy Swiss to create a cheese with very small holes, a mild flavor, and a lower fat and sodium content than many cheeses.
We even offer smoked Swiss cheese and smoked baby Swiss. The smoked cheeses have a creamier texture and a more buttery, slightly sweet flavor, which make them ideal for melting. Light cold-smoking adds an earthiness to the flavor profile for an added smokey, cured taste.
Our final offering is a sharp Swiss cheese. This is a more mature version of our locally made cheese that has been aged for approximately 12 months.  This is an excellent substitute for Gruyere cheese, if you prefer the more mature variety. The word 'sharp' denotes a strong flavor as a result of a long aging process.
How to enjoy Swiss cheeses
Swiss cheeses are delicious in a sandwich or served cut into cubes alongside salads and hams. They work well with most meats and are particularly good with a beef burger. You can use them in fondue and even enjoy them for breakfast with ham and a croissant. They pair well with apples, grapes, and pickled fruits and make an excellent addition to any cheeseboard.
How do you like to eat Swiss cheese? Let us know in the comments below!