Search Results for:
pickles
Sometimes we like to help you explore our ranges in more detail here on the blog. Today we are looking at Walnut Creek Pickles. Read on to find out all about the range and their many uses. We are a proud supplier of Walnut Creek foods and we think you'll see why.
Walnut Creek Foods President, Mark Coblentz, told us: "Honesty and integrity have always been hallmarks of our company. Early on, one of my new customers received a three-cent credit from me. It convinced her that we were a company she wanted to do business with. She became a lifelong fan of Walnut Creek Cheese and a friend of the family. My first warehouse was a couple of refrigerated truck beds and a shed on my dad's farm. In 1984, when more space became necessary, we built our first building in Walnut Creek, Ohio. We attached a retail store to it, primarily so I could justify having personnel to answer the phone for wholesale orders and pick-ups. Although the retail store began as an afterthought, it was the beginning of us becoming a team. In an interesting development, the retail exposure and knowledge of products needed to make retail successful were used to better serve our wholesale customers as well."
Walnut Creek Pickles: Hot Eggs
Pickled Eggs are typically hard-boiled eggs that are cured in vinegar or brine. As with many foods, this was originally a way to preserve the food so that it could be eaten months later. Now, pickled eggs have become a favorite among many as a snack or hors d'œuvre. The shell is removed from the hard-boiled egg and they are submerged in a solution of vinegar, salt, spices, and other seasonings. Recipes vary from the traditional brine solution for pickles to other solutions, which can impart a sweet or spicy taste. For these Hot Pickled Eggs, they have spice added that certainly has a kick to it!
Walnut Creek Pickles: Beet Eggs
We also stock delicious Beet Eggs, which have a wonderful pink color to them and an excellent flavor. Serve these alongside a cheeseboard, crackers, or crudites.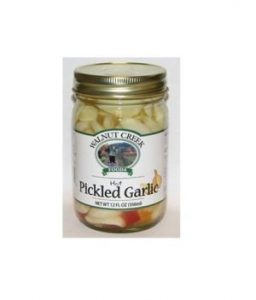 Walnut Creek Pickles: Hot Pickled Garlic
Hot Pickled Garlic is an Amish classic and ours is from the heart of Ohio's Amish Country Walnut Creek. It is delicious as part of a salad dressing or served alongside other pickles.
Walnut Creek Pickles: Baby Beets
These beets are flavored with a touch of cinnamon and spices and make a delicious healthy snack or side dish with salads. Use the juice to make a batch of delicious pickled red beet eggs.
Hot Pepper Jelly
A sweet and spicy jelly, perfect with cheese and crackers. You could also stir it into sauces and dressings to add a spicy kick.
If pickles aren't your thing at all, then Walnut Creek also makes a delicious Amish peanut butter spread. It's perfect for sandwiches, spreading on pancakes or mixing into your baking!
Which is your favorite pickle? Let us know in the comments!
We know that our customers love cheese! We're always looking for new ways for you to serve it, but we also know that creating a cheeseboard is a real joy. You can serve a cheeseboard as a fun appetizer or instead of dessert. It's quick to prepare and you can even ask your guests to bring along a favorite cheese!
There are so many ways to make your cheeseboards unique and impress at any dinner party. The huge variety of crackers, fruit, chips or nuts that you can serve makes this a great dish to help you stand out.
Today we're sharing some ideas for pickles which can be made to accompany your cheeseboard. Some take longer than others, but they are all delicious additions to your table.
1. Same day pickles
Throwing a last minute dinner party? These pickles can be rustled up in no time and are sure to wow your guests.
They are best eaten on the day that they are made.
You will need:
1 large cucumber
1 tsp salt
1 tbsp white wine vinegar or cider vinegar
1 tbsp white sugar
A handful of dill leaves
Cut the cucumber into long thin ribbons. This is easily done with a potato peeler or you could use a spiralizer.
Cover the cucumber with salt for 15 minutes.
Squeeze as much moisture as you can out of the cucumber using a paper towel
Mix the other ingredients together in a bowl
Add the cucumber
Leave it to infuse for as long as you can, but they will be delicious straight away!
2. Pickled grapes
You're used to serving grapes on your cheeseboard, but you probably haven't tried pickling them. You need to make these a few days before eating, and they should keep in the fridge for a week*.
You will need: 
1 bunch seedless grapes, removed from their stems and cut in half
1 1/2 cups distilled white vinegar
1 cup sugar
1/2 cup firmly packed light brown sugar
2 teaspoons ground coriander
1 teaspoon ground cinnamon
10 whole cloves
Mix the vinegar, sugar, spices, and cloves together in a saucepan
Bring to the boil for 2 to 3 minutes.
Add the grapes.
Pour the grapes and vinegar into a sterilized jar. Leave the lid off until they have cooled.
Once cooled, place a lid on the jar and refrigerate.
3. Shisler's Private Label
Sometimes you just don't have time to make pickles. Luckily, we've got you covered with our delicious private label pickles. We're sure you'll find some that will complement your cheeseboard amongst our selection. Choose from:
We also stock a wide range of others alongside our Private Label, including baby beets and hot pickled garlic.
So, there you have it. Three ways to add perfect pickles to your cheeseboard. Eat them with aged cheddar for a great, tangy combination.
What are your favorite pickles? Do you have a fabulous go-to recipe? Let us know in the comments!
*Always check pickles that you have kept before eating them to make sure that they are still safe to eat. 
Our old-fashioned brine pickles are both salty & sweet. You may never find a better pickle! No preservatives, all-natural bread, and butter pickles.
A classic pickle, but an incredible recipe! Sweet, but not too sweet, not to mention crunchy.History of Tony Packo's The son of Hungarian immigrants, Tony Packo was a native East Toledoan. Tony was born in 1908, just a stone's throw from Consaul and Genesee streets.  Tony Packo started out as a factory worker. That all changed when, in 1932, he and his wife got a $100 loan from relatives. No small feat, mind you, for this was during the hardest of hard times, the first years of the Great Depression. That same year he opened a sandwich and ice cream shop just around the corner from the place he was born. Tony had learned the restaurant business working for his older brother John, who owned a place across Consaul Street in what is now Tony Packo's parking lot. There was no beer at Packo's that first year. Prohibition would not be lifted until 1933.
Because Tony was Hungarian-American and lived in a Hungarian neighborhood, Tony's creation was called the Hungarian hot dog.  Until Toledo-born Tony invented it, there was no such thing as a Hungarian hot dog, say those who know the Old Country's food. Packo's food was an instant hit in the neighborhood. Within months of opening, Tony and Rose knocked out a wall and expanded their first shop, in what is now called the Consaul Tavern. By 1935, success had taken them to the point where they could buy a building of their own. They purchased the wedge-shaped establishment at Front and Consaul. The building houses part of today's Tony Packo's, but with a few more additions. The restaurant is still run by the Packo family.
THE M*A*S*H CONNECTION
The words that came out of Jamie Farr's mouth on Feb. 24, 1976 would put Tony Packo's in the spotlight. Farr, a native Toledoan himself, appeared in the television show "M*A*S*H," playing Corporal Max Klinger, a crazy medical corpsman who was also from Toledo. In the episode that made Packo's future, a man playing a television newsman talked to Klinger about his hometown. Farr wrote a little local color into his reply. The lines read, "If you're ever in Toledo, Ohio, on the Hungarian side of town, Tony Packo's got the greatest Hungarian hot dogs. Thirty-five cents…" Thus a new epoch began. The name appealed to the scriptwriters, who wrote Packo's into five subsequent episodes. In one show, the mobile hospital unit asked Packo's to send sausage casings to be used in a blood-filtering machine. Packo's was also mentioned in the two-and-a-half-hour final episode in 1983.
THE MOST POPULAR BUNS IN THE MIDWEST
The Farr coup was actually the second time that good fortune, in the form of a celebrity, graced Tony Packo's. In June 1972, Burt Reynolds was playing "The Rainmaker" at a local auditorium, and Nancy (Tony Sr.'s daughter) got a notion to get him into her restaurant. "I thought, well, he's got to eat somewhere." Nancy wrote a letter and took it to Reynold's hotel.
About two nights later he showed up. Reynolds was the first big name to eat at Packo's and sign a hot dog bun. Nancy wanted him to write his name on something to commemorate his visit. It occurred to Reynolds to put his pen to Packo's breadstuff. This precedent was followed by scores of celebrities, including presidential candidates, whose autographed hot dog buns now are enshrined on Packo's walls. Thus the tradition of "bun signing" began, and has continued to this day.
The biggest football game of the year is right around the corner!  Don't let your snack game pale in comparison.  Here we have some fun ideas for presentation and taste purposes and a Shisler's shopping list to make sure your snacks pack the same wow factor as the game!
The holidays are upon us, which hopefully means lots of family sleepovers!  If everyone is up and at 'em at different times of the morning, it's tough to make the perfect hot and made-to-order breakfast for everyone.  Take a look at some of these ideas for a five-star brunch experience for your guests in the comfort of your home.
The leaves are turning, the temperature is dropping and we are ready for ALL of the comfort food of fall.  As long as there's cheese involved…