We absolutely love jam here at Shisler's Cheese House. It's great for spreading on toast, eating in sandwiches or incorporating into your baking.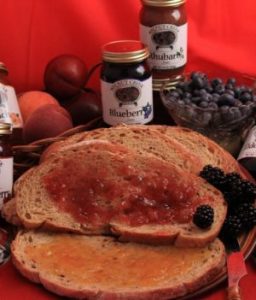 Today we thought we would introduce you to the basic jam making technique. You'll need:
Jars to store your finished product
An equal weight of fruit and granulated sugar – some great fruit choices include strawberries, raspberries, cherries, or peaches. You can even combine fruits to try out new flavors. Just be sure to weigh all of the fruit together to get the right weight for the sugar.
A large pan
Start by sterilizing your jars. You can do this in a variety of ways, but the easiest is to wash your jars thoroughly in soapy water, rinse them, and then place them into an oven on a very low heat to dry them out.
Put the fruit and sugar into your pan on a very low heat and stir until all the sugar is dissolved.
Bring the fruit mixture up to a rapid, rolling boil and cook for 3-5 minutes. As your jam approaches the setting point, it will begin to thicken and start to boil more slowly.
To test if the jam has reached setting point, remove the pan from the heat. Spoon a little of the fruit onto a cold plate, leave it to cool for a few minutes, and then push your finger or a spoon into the jam. If the jam wrinkles, it is ready. If not, return the pan to the heat and cook the jam for a minute or two more before testing it again.
Once the jam reaches its setting point, carefully spoon it into the prepared jars and put the lids on while the jam is still hot. It will thicken as it cools and the jar should seal. If it doesn't, then the jam should be eaten within a couple of weeks.
If the jar is sealed, it can be kept for around six months. Once opened, pop it into the fridge to keep it fresh.
If you don't feel like making your own, then we have a whole range of jams and jellies ready for you to enjoy. Our homestyle jams from Walnut Creek come in Cherry, Blueberry, Black Raspberry, Rhubarb, Strawberry, Red Raspberry, Strawberry Rhubarb, Peach, Strawberry Kiwi, Apricot, Blackberry, Boysenberry, and Elderberry Jelly. With that many flavors, we know that you'll find one that you love! We also stock a Private Label Old Fashioned Apple Butter, made from the best locally grown apples and locally produced Amish butter. 
If you prefer savory treats, we offer a Hot Pepper Jelly and our Private Label Tomato Jam. The tomato is a local tradition, made from ripe locally grown flavorful tomatoes.  We suggest serving it with our well-aged Canadian Cheddar, but there are many uses. It's incredible in a BLT or served on cornbread, eggs, and roasted potatoes. The Hot Pepper Jelly is also great with cheese or ham.
How do you make jam? What's your favorite flavor? Let us know in the comments below!
Whether you love trying different jams and jellies, or you have made lots yourself, sometimes you need to find a way to use some up. Especially at this time of year, when you'll be thinking about making new jams with all of the lovely summer fruit.
Read on to find out some of our tips and tricks for using up jams and jellies.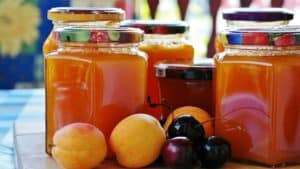 Cakes
You don't always have to use strawberry or raspberry jam to sandwich cakes together. Try out different flavor combinations and find your favorites.
Gravy
This might sound a little odd, but trust us: it's delicious. A little sweetness can go a long way to turning a good gravy into a great gravy. Add a teaspoon at a time and keep tasting; you don't want to overpower it.
3. Yogurt
Stir jams and jellies into plain yogurt to create a delicious and easy dessert. It's perfect for when you're craving something sweet but you don't want to leave the house.
4. Salad Dressings
Sometimes you might add a little sugar or honey to a salad dressing for sweetness. Try jam instead! Make sure you taste it before pouring it over your salad to make sure that you've got the flavors right. A great tip is to take a leaf or veggie from your salad and dip it into the dressing to taste. This way you get to try the flavors together, instead of tasting dressing on its own.
5. Grilled Cheese
We've mentioned this before, but jam or jelly can take your grilled cheese to the next level. We especially love this with cheeses like ricotta or mascarpone, but hard cheeses like gouda work well with fruit as well.
6. Barbecue
As the weather warms up and you start to think about cooking on the barbecue, try using jelly as a glaze for meats. Mix your jelly with a little water and heat over a low heat until it is a brushable glaze. Then simply brush it onto the meat.
7. Cocktails
Any cocktail that is shaken can have a spoonful of jam added to it. We especially love apricot jam in a mojito, but this is definitely something to experiment with. Make sure that you give everything a good shake before serving.
8. Pancakes
Pop jams and jellies on the table when you're serving pancakes and watch them get eaten up! This is especially good with whipped cream.
9. Oatmeal
Oatmeal with a dollop of jam on top is a true joy. Try different flavors to find your favorite. You'll never have a boring bowl for breakfast again.
10. Biscuits
Sandwich biscuits together with jam or even add a little to the batter to create an added sweetness. This is a quick and easy way to add excitement to your baking. It's also a fun way to get the kids involved in the kitchen!
We hope you've enjoyed our list. If you need some jam or jelly to try out these ideas, we've got you covered. Which will you try? Let us know in the comments!
Fig Jam A sweet and delicious jam made from real figs.  If you like strawberry Jam, you'll love fig jam!
Shisler's Tomato Jam
A local tradition made from ripe locally grown flavorful tomatoes, never the commercially grown bland variety.  We suggest serving this tomato jam with our well-aged Canadian Cheddar, but there are many uses. You can make a BLT with it. It's incredible on cornbread, eggs, and roasted potatoes.
Sweet Fire Goat Cheese
This original flavor brings the concept of pepper jam & cheese to this fresh chèvre. While habanero brings the heat, this creamy goat cheese calms it down – all in one bite. Simply open and unmold the cup upside down to let the blackberry habanero syrup coat the goat cheese. Mackenzie Creamery, a local business right here in Ohio continues to win awards and has been cited in The New York Times, Town and Country Magazine, and Cleveland Magazine as one of the best goat cheses in the country.
Bread Cheese
Bread Cheese, also known as "baked cheese" is baked to give the cheese a toasted crispy crust. Keto friendly! You could make it less keto friendly by dipping in syrup, slathering it in jam, or alongside your favorite chocolate.
Did you know that tomorrow, January 20, is National Cheese Lovers' Day?  Although this "national holiday" may not be decreed by Congress or have much of a historical background, we know that many of you are Lovers' of Cheese and always looking for a way to celebrate that love.  So, let's take a look at some fun facts and new cheesy things to try out in celebration!
The holidays are upon us, which hopefully means lots of family sleepovers!  If everyone is up and at 'em at different times of the morning, it's tough to make the perfect hot and made-to-order breakfast for everyone.  Take a look at some of these ideas for a five-star brunch experience for your guests in the comfort of your home.
Last week we posted some pictures of some AMAZING Hungarian Cookies that have been a huge hit.  Both the online response and in store sales have been overwhelming.  So, we wanted to take a few minutes to give you a little info on the history of these cookies and the bakery that makes them!